As Easter approaches, it's important to remember the people who may be visiting your church for the first time. For church leaders, this is a critical opportunity to make a positive impression on guests to help them feel seen and loved. You don't need extensive planning or have a large team to make visitors feel special. Here are 7 ideas to wow your first-time visitors and turn them into returning guests this Easter. 
Update Your Website
Before their visit, many guests will take a look at your website to get a feel for the church and get details for Easter service. Take some time to review your site to make sure all information is accurate and up to date. 
Consider what a new a visitor needs to know about your church, and ensure it's easy to find on your site. Create a visitors page with important details for visitors, such as: 
Church address

Worship service times

Contact phone number and email address

Children's Ministry

Small Groups

Church events calendar

Link to live stream (if offered)
Another special touch to add for new visitors is a pastor welcome video. Feel free to use your webcam or phone camera (no fancy software or editing needed). Introduce yourself and the church, and give a brief message about how excited you are to meet new visitors. This is a personalized way to encourage guests and give a warm welcome before they even enter the building! 
Prepare the Church Exterior
Evaluate the outside of your church from a guest's point of view. Consider what a first-time visitor sees when they enter and walk into the building. Is the parking lot clean and well-maintained? Do guests know where to park? Is the entrance clearly marked? 
Upon driving up, new visitors may feel nervous. You can help them feel welcomed with a clean, inviting environment with plenty of directional signage. If possible, designate and label visitor parking near the front, and staff volunteers as parking lot attendants to direct traffic and assist visitors. 
Create a Welcome Team
Position smiling, helpful greeters near each entrance to give visitors a warm welcome. Prepare greeters to answer questions about the church and direct people where to go. A new environment filled with strangers can feel intimidating, but friendly faces will help visitors feel welcome and at ease.
If you are hosting online services for Easter, designate a "virtual greeter" to welcome viewers and be available for help or questions during the service. 
Set Up an Information Center
You want to tell new visitors all about your church, but that can be difficult when it's busy and everyone is rushing to get a seat. In addition to your welcome team, set up a central location where new visitors can access church information, calendars, sign-up forms, and ministry information. 
If you're short on space for too many printed materials – no problem! Create a QR code and print it on a large sign. Visitors can scan the code to get a link to the information on your website. This is also helpful for visitors who want to refer back to the information later. 
If more space is available, consider offering a few drinks and snacks to help visitors feel comfortable and encourage chatting with other guests. 
Simplify Connect Cards
A new visitor may not want to give too much personal information or are hesitant to turn in a connect card. Make it super easy for visitors to connect with a simple text message. They'll get an instant reply and you can follow up with a personal introduction via text after the service. Post the text number in several locations and make an announcement at the beginning of the service for those in-person and online. You can also share church information and your pastor's welcome video through text message. 
Follow Up With Guests
After service, reach out to visitors to thank them for coming, introduce yourself, and set up a time to chat. A mid-week text follow-up is also helpful for visitors who may have felt overwhelmed with new information. Check in to answer any questions, invite them back for the next service, and suggest some small groups they can join.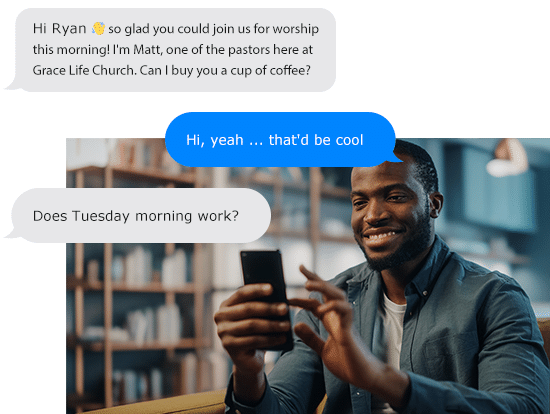 Prepare Your Members to Welcome Visitors
Encourage your congregation to introduce themselves to any new faces and share what they love about your church. Whether it's before or after service, visitors who have a chance to form meaningful connections will be more likely to visit again in the future. 
Every church strives to make a positive first impression on new guests. Small details can make a huge impact on helping your visitors feel comfortable, welcomed, and excited to return to church again. If you're looking for a special way to connect with new guests this Easter season, check out Response and get started for free.